Tartă crinkle cu fistic – un desert decadent și extrem de simplu și rapid de preparat. Este ușor crocantă la suprafață, dar cu textură budincoasă la interior, cu gust subtil de caramel și strat delicios de fistic tocat.
Foi de plăcintă sau phylo pastry sunt un ingredient versatil în bucătărie, adesea utilizat pentru a crea deserturi delicioase și ușor de preparat. O rețetă populară este tarta cu foi de plăcintă, care poate fi umplută cu o varietate de ingrediente și arome – îți reamintesc că pe blog mai gasești și rețeta de tartă Soufra cu afine.
Pentru a face o tartă cu foi de plăcintă, trebuie să începeți cu foi de plăcintă proaspete sau decongelate. Acestea vor fi așezate într-o tavă de copt, care este unsă cu unt sau ulei. Această tartă se coace în două tranșe: prima dată se coc doar foile unse cu unt pentru a le rumeni și a deveni crocante, iar apoi se adaugă umplutura dorită și se mai dă o dată la cuptor pentru coacerea finală.
Această tartă crinkle cu fistic este o opțiune excelentă pentru cei care doresc să servească un desert delicios și ușor de preparat. Tarta poate fi personalizată cu diverse umpluturi și arome, oferind o varietate de opțiuni.
Această tartă crinkle cu fistic este atât de simplu de preparat cum sună. Gata în doar șase pași, iată cât de simplu:
Pune într-o tavă un pachet de foi de plăcintă pliate evantai câte două.
Unge foile cu 50g unt topit!
Dă tava la cuptorul încins la 180°C pentru 20 minute.
Toarnă peste foi o cutie de lapte condensat (380g) și 200ml smântână pentru frișcă!
Pune tava la cuptor pentru încă 20 minute.
Presară fistic tocat, feliază și servește cu poftă!
Rețeta este to try, to save, to love!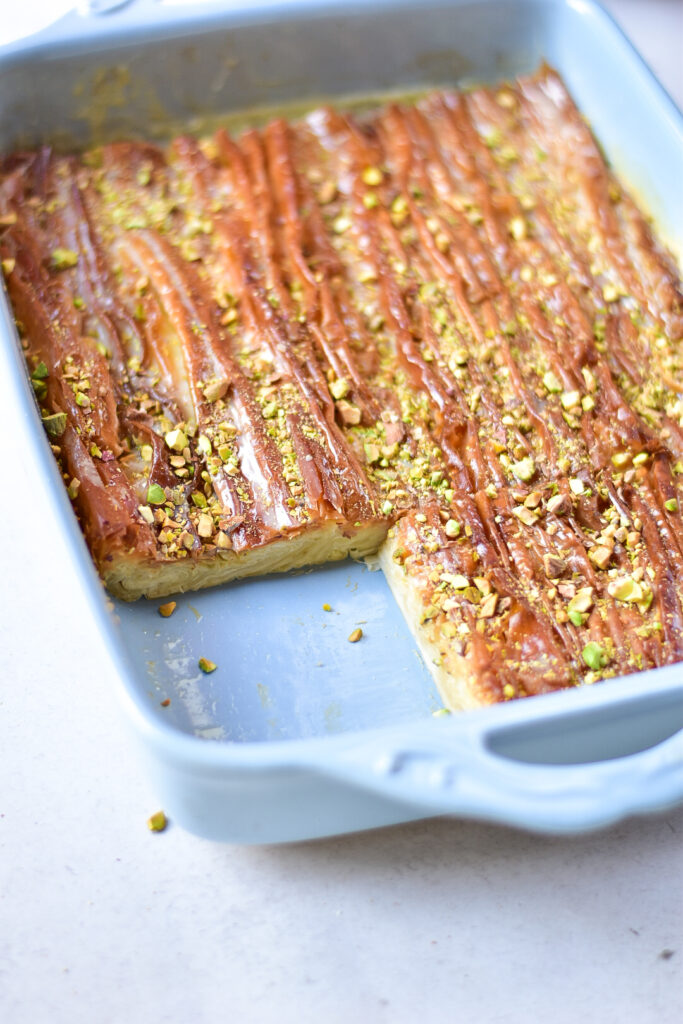 Rețeta video aici: